THE BOY WITH GREEN HAIR was first an old technicolor film made by RKO in America, (dir. Joseph Losey: 1948) and subsequently a play staged in the early 1950's. It tells the magical tale of a young WW2 orphan, Peter, who ends up living with a distant relative called Gramp. One night, Peter's hair mysteriously turns green. At first his hair is a cause of great amusement around the town until people become fearful that his peculiar condition will spread to their own children.
One day, to escape bullies at school, Peter hides in the woods. Suddenly he hears strange voices around him and when he looks up, he sees other war orphans, from many other countries, magically appearing. They explain how, although difficult, having green hair is a wonderful thing, as it will serve as a constant reminder to all the adults of the world that war is very bad for children and how there must never, ever be another one.
Peter is greatly comforted by the news and races back to town to tell his story. Unfortunately, the adults will hear nothing of it and instead, force him to have his hair shaved off. Peter, betrayed and bald, runs away but is soon picked up by two policemen in a neighbouring town. A children's psychologist is summoned who gently coaxes his fantastical tale out of him. In the meantime, Gramp has been contacted and along with his teacher and doctor, they arrive to take him home. Gramp is very sorry for what has happened to his hair and solemnly swears that if it ever grows back green, it's going to stay that way!
Click here to view the full show treatment.
JODY TREHY – Composer & lyricist
"Jody Trehy is an Irish soul poet in the tradition that produced Van Morrison and Paul Brady but with an added flavour of European theatre that hints at Bertolt Brecht and Jacques Brel" Herald, Scotland
Jody Trehy's second album, Involuntary Noises was recently shortlisted for the Brighton Fringe Award for Excellence. Notable credits include: music and lyrics for MacBecks, Executive Producer Riverdance and musical satire Eejit Of Love for RTE. He is an accomplished producer at Studio 42 and a director of One Louder Sound LTD.
PAUL HIGGS – Co-composer & orchestrator
Paul Higgs is one of the UK's leading trumpet players and composers. He has composed and arranged for Film, TV and Theatre.
Formerly music-director National Theatre London and Royal Shakespeare Company.
MICK GORDON – Book and co-lyricist
Mick Gordon is a producer, writer, director. Previously Associate Director National Theatre London, Artistic Director Gate Theatre London, Artistic Director Aarhus Theatre Denmark, Artistic Director On Theatre London.
He has produced and directed over 200 productions worldwide. His own writing includes eight plays, a collection of essays, and his first television series in development with Lionsgate.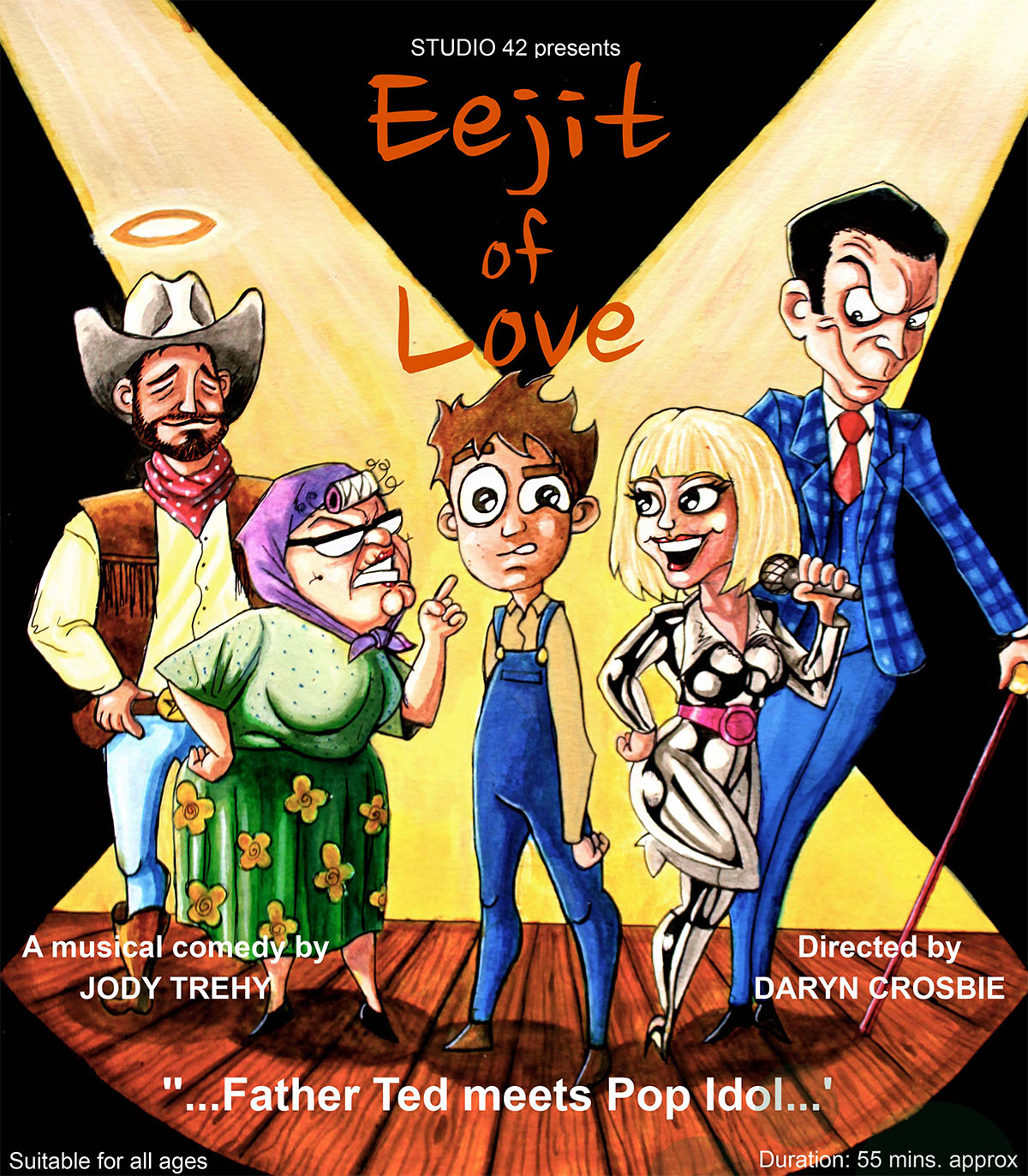 Eejit of Love is a hilarious musical riot of social satire and infectious melodies featuring the music and lyrics of popular Dublin singer and songwriter Jody Trehy.
A cross between Father Ted and Pop Idol, the show follows the fortunes of lovable bumpkins, Billy and Eileen, as they travel to Shmokey City to audition for the dastardly Pete Popalypse on his new TV talent show: Xposure. Pete lures Eileen away on a perilous journey towards stardom as a broken-hearted Billy heads back to the farm. Will Eileen survive the evil ambitions of Pete and will our two lovers be re-united?
Eejit of Love has been enthusiastically received in theatres throughout Ireland and was a family, foot-stomping, favourite at the Dublin Fringe Festival. As a radio play, it reached number 1 in the RTE charts and was repeatedly broadcast due to popular demand.
Originally developed at Greenwich Theatre (London) and produced as part of the Dublin Fringe Festival, Eejit of Love is a wonderful showcase of talent from Ireland. Eejit of Love is written by Jody Trehy; directed and choreographed by Daryn Crosbie and features a cast of versatile performers: Amy Creighton, Davy Crowley, Michael Grennell, Keith Hanna and Donncha O'Dea. The clever, catchy songs and music are guaranteed to have audiences of all ages singing along.
Click here to read the reviews.